Honey bees on the farm will pollinate our flowers.  Todd began a relationship with honey bees over 50 years when he and his brother Tom, 9 years old, bought their first hive for their family farm. They were enchanted by how industrious the bees were, giving them honey, pollen, propolis and beeswax for candles and salve. Around 40% of what is eaten is pollinated by insects, this to a great degree by honey bees. Because there are so few nectar & pollen plants on Thornhill Farm, we are planting these plants for the bees. We know the soil is worn out on the farm because our honey bees make so little honey. This is why we have pigs. When the forest is cleared, we do not burn the wood that is left behind, but chip it and mix these wood chips with manure and fungus mycelium to make piles of compost to improve the soil. Last summer we grew peas and oats as a green manure crop, and the pea flowers gave voluminous amounts of nectar to the honey bees and pollinating insects.
---
 Health & the Hive: A Beekeeper's Journey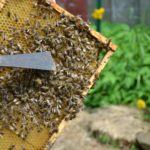 A Jan Cannon Film that explores the importance of honeybees in our lives through the seasons of Honey Gardens Apiaries, Todd and the team. Topics addressed in the film include pollination, queen breeding, disease control, bee venom therapy, organic agriculture and honey-based plant medicine. 53 minute dvd. $10 + $4 (shipping).
to order, send a check to: 198 Taylor Road, Greensboro Bend, Vermont 05842
---
writings & images about the honey bees of Thornhill Farm
---
Live from the Hive by Annie Watson – Winter 1997 to July 2015 archives
A Spotty Summer A Spotty Summer This summer has given new meaning to the descriptive term "spotty", used in beekeeping to describe the widely diverse yields of honey that may be found from yard to yard in some seasons. A few weeks ago, we went to one yard to take honey off for the third time this season. Over ...
State of the Hive Annual Report – Winter 1997/1998 As beekeepers, we work through a rhythm of yearly cycles. These include helping the bees build up for and then gather a crop for around six months of the year, harvesting this crop (with hope that there is one, it doesn't always happen), packaging the crop, and working on marketing the honey and building equipment ...